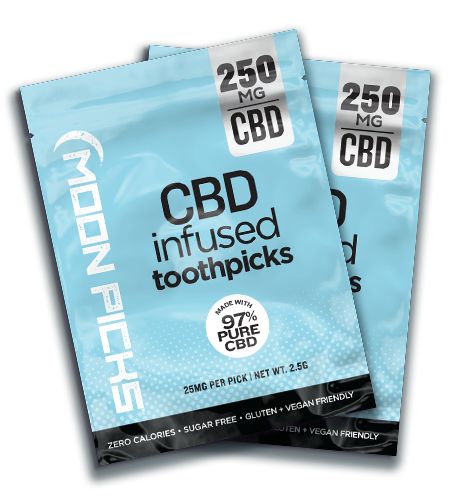 CBD (Cannabidiol) is a natural remedy derived from the hemp plant. It interacts with the endocannabinoid system in your body to deliver a variety of beneficial effects. CBD is safe, non-addictive, and has significant therapeutic attributes. Many health conditions are treated with pharmaceutical drugs. Unfortunately, many of these drugs have unpleasant or dangerous side effects. In some instances, CBD may offer non-toxic, virtually side-effect free benefits for individuals who want to avoid or reduce the number of pharmaceuticals they are taking.
CBD does not cause the feeling of being 'high' that is often associated with cannabis. It is a great option for parents, workers, and anyone else who does not want to compromise their mental clarity. This means that consumers are free to choose CBD as a natural supplement without worrying about any legal repercussions.
Made With Premium CBD Isolate
The key ingredient in our infused toothpicks is CBD isolate. Our premium isolate is extracted in a controlled environment and refined to guarantee industry-leading purity and consistency. Our isolate is derived from hemp plants grown in the USA.
These statements have not been evaluated by the FDA.This product is not intended to diagnose, treat, cure, or prevent any disease.